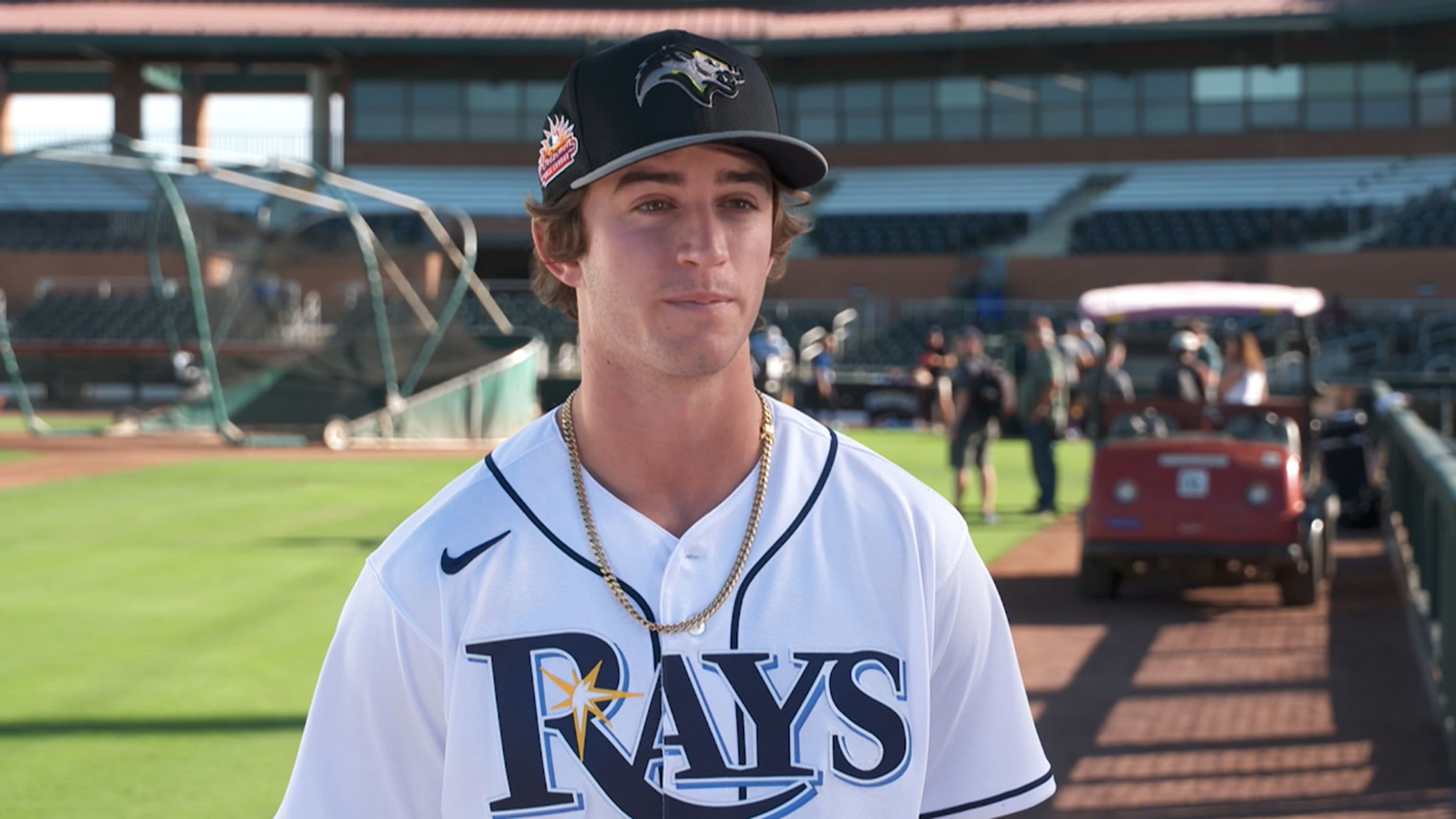 Rays No. 2 prospect focused on growth in Fall League
October 19th, 2023
The Double-A Montgomery roster boasted two Top 20 overall prospects at the end of the season. Both were 20 years old. Both played on the left side of the infield. One got there late on Sept. 12, just in time to help the Biscuits' run to the Southern League postseason. The other found out on Sept. 21 he was joining the Rays in the Majors.
And as the former (Carson Williams) watched the latter (Junior Caminero) receive the news from Biscuits manager Morgan Ensberg after what could have been a rough playoff loss, he couldn't help but envision when his time will come.
"It gives you a scene into what could happen in the future for any player," Williams said. "Everybody in Double-A, they're a step away from the big leagues. You see a guy get called up, [and you think,] 'OK, let's go get it next year.' I mean, you never know what's going to happen."
Before Williams gets his opportunity in St. Petersburg, Tampa Bay's No. 2 prospect is playing in the graduate school that is the Arizona Fall League.
Ranked as MLB Pipeline's No. 19 overall talent, the 20-year-old shortstop is one of the toolsiest players in this year's AFL class. He's considered a plus defender at a premium position with the range and arm strength to be a future Gold Glove contender. (He already won the Minor League version of the award last year.) His power and speed are both at least above-average, and he proved that with 23 homers and 20 steals in 115 games, making him one of two 20-20 Rays Minor Leaguers in 2023.
The big question: can he hit enough to make those tools play?
The 2021 28th overall pick struck out 32.1 percent of the time with Single-A Charleston during his first full season, relying on the hard contact he did make to fuel his .252 average and 124 wRC+. It was an eye-opening experience for the right-handed slugger, who focused on his pitch recognition.
"My biggest thing – there's no secret – is the strikeouts," he said. "So I went into the offseason and knew I had to work on it as much as I possibly could. It's tough during the offseason without real arms, but you do what you can. Then I came out this year with goals in mind in that aspect, and I accomplished a bunch of them."
Williams' K rate dipped to 31.4 percent while his swinging-strike percentage improved from 14.4 in 2022 to 13.3 this past summer.
It's been much of the same story during the California native's early time in Arizona with Peoria. Through Wednesday's play, Williams has gone 14-for-41 (.341) with a pair of doubles and four steals. His nine walks have helped push his on-base percentage to .471, while he's kept the strikeouts relatively in check by his standards with 15 in 51 plate appearances (29.4 percent).
Williams got 115 games of playing time during the season at High-A, Double-A and even a one-week cameo in Triple-A, meaning he isn't the typical Fall Leaguer making up for lost time. But having a clear objective makes this assignment an enticing one.
"You can't get enough baseball," he said. "The Minor Leagues and leagues like this – the Fall League – it's all about development, and the more baseball that I play, the better I can get at the things that are going to get me to the big leagues. [If] I can work on my tools so much, I might as well come out here and do it."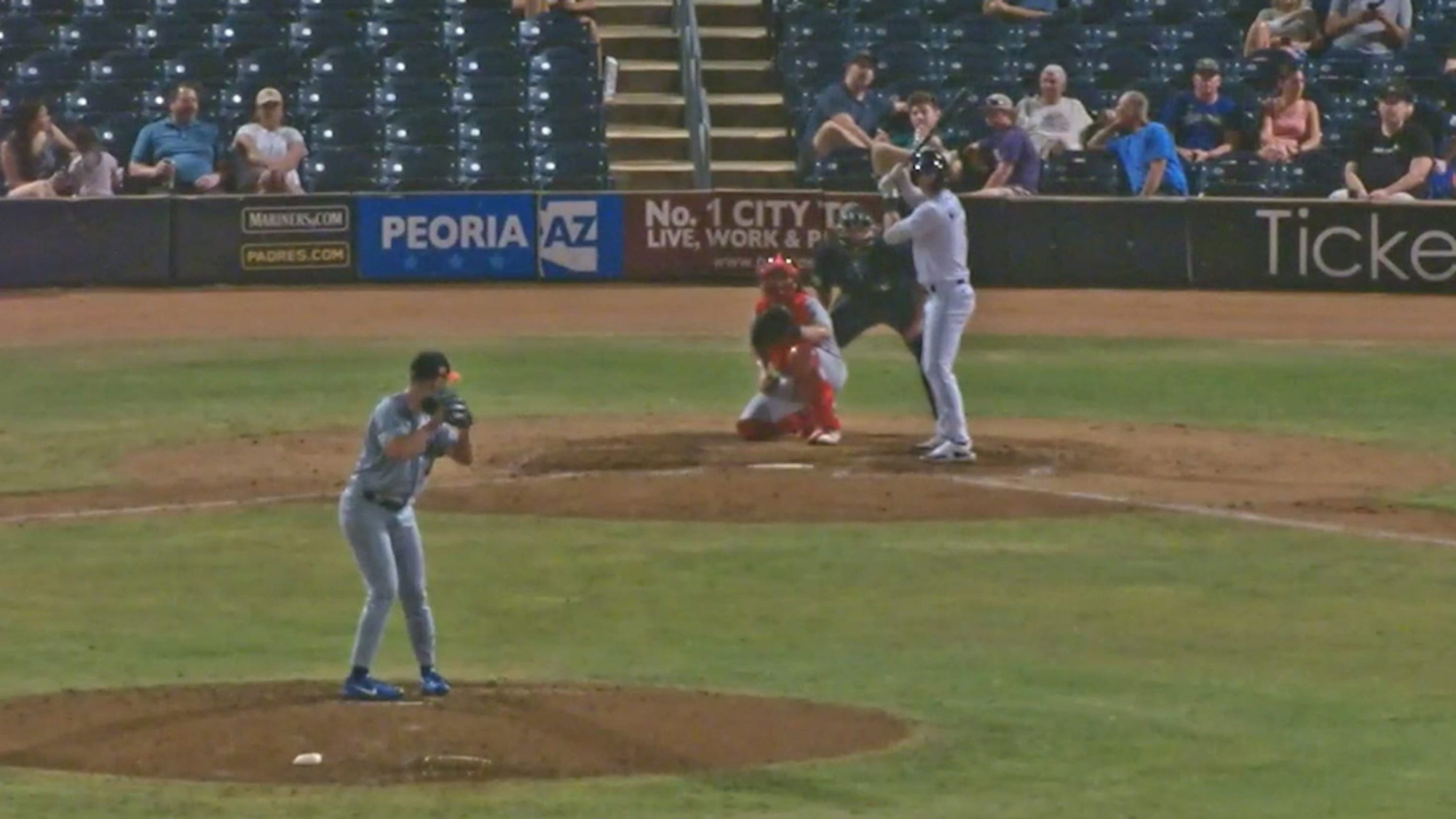 Rays hitters in the Fall League
Dominic Keegan, C (No. 9): Thought of as a bat-first catcher coming out of Vanderbilt last year, Keegan impressed Rays officials with his improvements behind the plate, and that work will continue during his time this autumn. Of course, the 2022 fourth-rounder hit well too, producing a .287/.386/.466 line with 13 homers in 106 games between Single-A and High-A. He joined the Peoria roster as Tampa Bay's top catching prospect.
Shane Sasaki, OF: Sasaki was hit by a pitch on the left hand on May 12 and didn't return to the High-A Bowling Green lineup until July 20, so he's in the Fall League to make up for the lost time. The 23-year-old outfielder hit .301/.375/.465 with seven homers and 12 steals in 64 games with the Hot Rods and has continued to swipe bags in the AFL with seven through his first 10 contests. He's played all three positions for the Javelinas as well.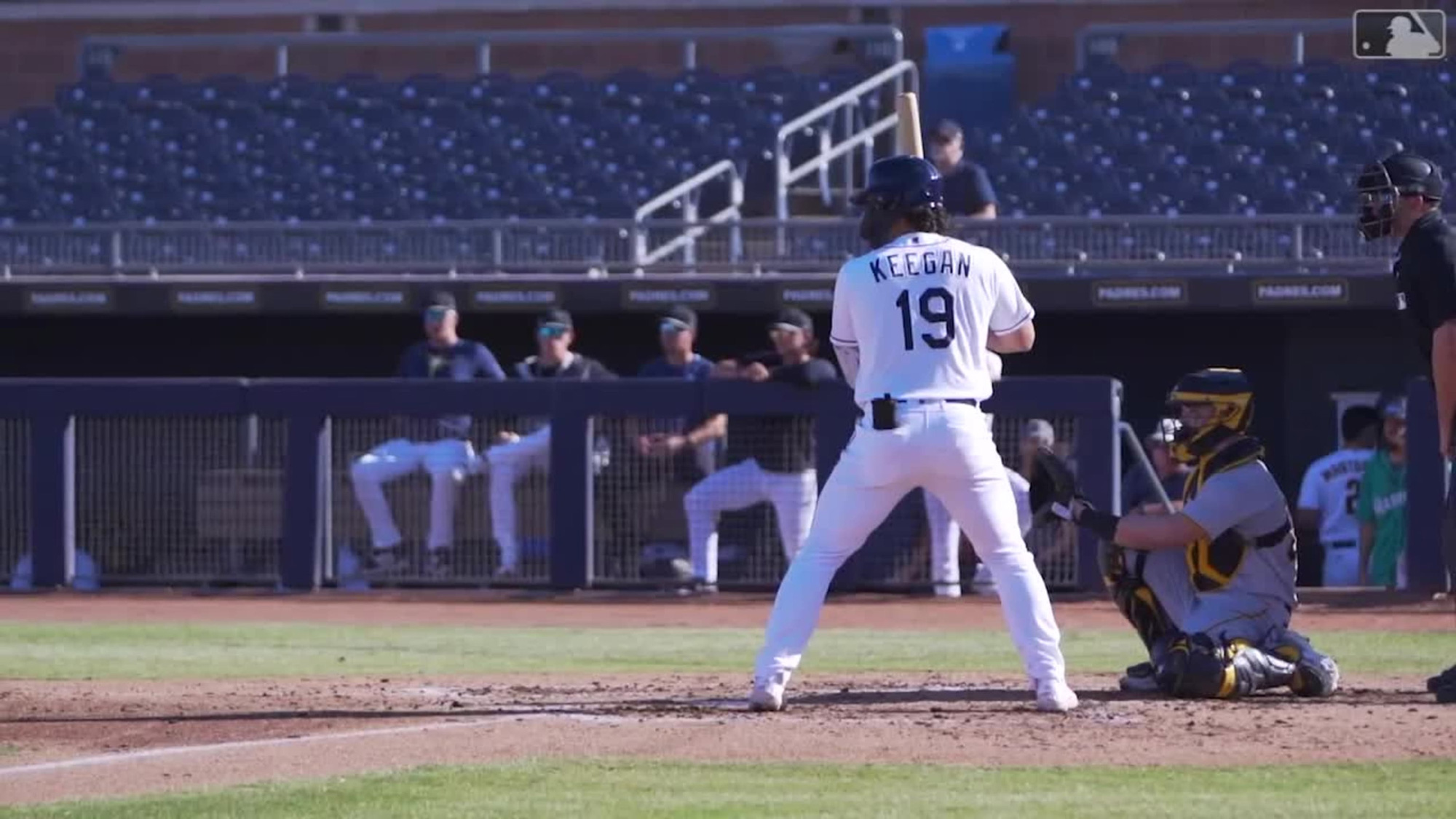 Rays pitchers in the Fall League
Haden Erbe, RHP: Tampa Bay signed the right-hander in July 2022 after a brief spell in the independent Pioneer League, and 16 months later, he's competing in the showcase circuit in the desert. Erbe struck out 63 batters in 41 1/3 innings on the strength of his 92-94 mph fastball and low-80s biting slider, but he was done in hard by the long ball (1.96 HR/9) and finished with a 5.01 ERA.
Austin Vernon, RHP: Put Vernon's more traditional numbers at High-A Bowling Green this season (6.12 ERA, 1.63 WHIP in 82 1/3 IP) off to the side for a moment. Consider this: the 2021 10th-rounder finished fifth at High-A in swinging-strike rate at 15.2 percent among 89 pitchers with at least 80 frames. He's touched the upper 90s with his fastball in the past and shows good sliders and changeups in flashes — the latter of which helped make him a reverse-split maven in 2023. If he can keep the homers in check in the AFL, Vernon will solidify his place as an interesting arm in a system that knows how to get the most out of relievers.
Patrick Wicklander, LHP: The 2021 eighth-rounder opened the season as a High-A starter and transitioned to a swingman role with Double-A Montgomery, posting a 3.90 ERA with 102 strikeouts and 38 walks in 110 2/3 innings. Wicklander sits in the low 90s with his fastball and also shows a low-80s sweeping slider and low-80s changeup. Righties slugged .476 against him in 2023.
Logan Workman, RHP: Workman made two pitches in his season debut for Montgomery on April 12 and strained his oblique in an injury that kept him out of Double-A until July 5. He finished with a 4.12 ERA, 1.39 WHIP and 71 strikeouts over 63 1/3 innings in the Southern League while working with a fastball-cutter-slider-changeup mix.
Drew Sommers, LHP: The 6-foot-3 southpaw was named a Carolina League end-of-season All-Star after finishing with a 2.72 ERA, 66 strikeouts and only 10 walks in 43 innings for Single-A Charleston. His 29.5 K-BB percentage was best on the loop among the 142 pitchers with at least 40 frames. Sommers showed a 93-94 mph sinker and 80-83 mph slider during his most recent AFL outing in front of Statcast cameras.