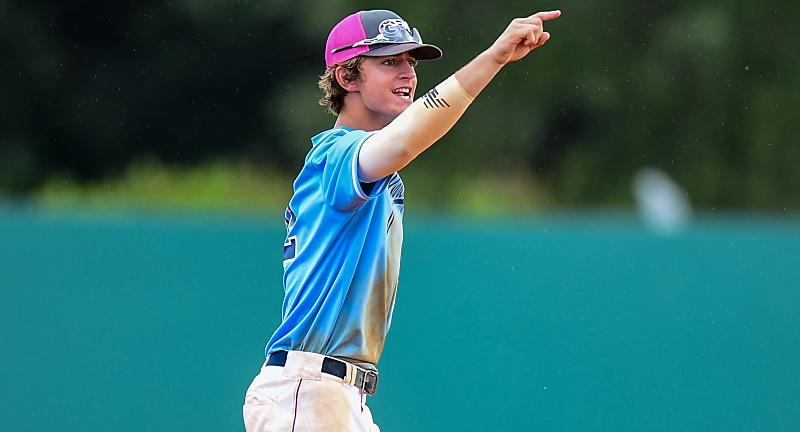 Draft Chatter Spikes for Carson Williams
May 21st, 2021
The following was written by Perfect Game on May 18, 2021.
It was the middle of October and the end of a long, hot week in Fort Myers, Fla., which was serving as the official host of the transplanted 2020 Perfect Game WWBA World Championship.
The still-raging COVID-19 pandemic had forced the relocation of the premier event from Florida's Atlantic Coast in the city of Jupiter to the state's southwest Gulf Coast but on Oct. 12, the event's final day, that was of little consequence, especially for a talented and triumphant team from Southern California.
Yes, it was the Los Angeles-based GBG Navy 2021 squad that had risen above the fray to claim the Jupiter championship, the first in program history after three trips to the final four in the previous six years. GBG program founder and head coach Michael Garciaparra had finally reached the top rung of the ladder.
"Our coach was on us the entire tournament; he really wanted us to win this thing," tournament Most Valuable Player Carson Williams told PG at the conclusion of a one-sided championship game. "He was confident in us the whole way and he (told us to) keep the energy up the whole time. We're a big momentum team…and we were just going to roll; that's what happened and it was amazing."
What is equally amazing is just how much Carson Williams' profile and projections have skyrocketed since he brought that Jupiter MVP trophy back to his home in San Diego just seven months ago.
A shortstop and right-handed pitcher with a sweet and powerful swing and a cannon for an arm, the University of California-Berkeley signee, who is set to graduate from Torrey Pines High School in a couple of weeks, is climbing MLB Amateur Draft boards. It's a real life happening that is simultaneously surprising and not really all that surprising at all, if that makes any sense.
"He's been diligent on the field and he's been diligent off the field," Carson's dad, Greg Williams, told PG during a telephone conversation Monday morning. "He's a kid who wakes up at 6 o'clock every morning and starts hammering out homework or he's in the gym. He's hungry, so we're extremely proud in that department…
"It's a win-win; everything's a win. College, the Draft, it's all a win. As a family, we're just taking every day and relishing it and appreciating it and staying in the moment."
Staying in the moment has been a tall task for everyone over the past 15 months or so. There has been one pandemic-induced roadblock after another for every kid graduating from high school this spring but Williams honestly believes he was put in a good position to work through those speed bumps.
"There weren't many challenges because I think the school district did a great job of letting us be online," he told PG during a separate telephone talk on Monday. "Now they're integrating us more back into school."
A sense of normalcy was finally achieved in a big way when the state of California made the decision that the spring sports calendar would be allowed to be played-out after a delayed start. There was a feeling bordering on euphoria when athletes of every stripe were finally able to rejoin their teammates more than year after their 2020 seasons were cancelled.
"Being an [athlete] in California, nobody really knew if we were going to get that senior season," Williams said. "When it finally happened, me and my fellow seniors and the juniors who are playing with us too, we were ecstatic to get out on that field. Right when it happened we were ready to go."
Twenty-two games into the 2021 regular season, the Torrey Pines Falcons stood 15-7 overall while competing in the Coastal League as part of the CIF Division I San Diego Section. The team's head coach is Tony Simis and one of his top assistants is Matt Livingston, who formerly served as head coach of the program.
The entire coaching staff and everyone else involved with the 2021 Falcons have certainly enjoyed watching Williams perform this season. Heading into this week's games, the 6-foot-2, 200-pound athlete was sporting a slash-line of .500/.581/1.000 with eight doubles, two triples and eight home runs counted among his 36 hits; he'd driven in 27 runs and scored another 31.
Fellow seniors Bryce Martin-Grudzielanek (No. 307-ranked, UCLA), Jack Johnston (t-500, Cal) and Ben Haynie have also been hitting the ball particularly well, as has junior Cole Wilson.
"We put in a lot of work (last) summer and during the offseason and I think all the hard work is just paying off; we're having a great senior season," Williams said. "It's been so much fun to play with these guys; it's been awesome."
One of the facets of Williams' game that has received the most attention this spring is the impressive power numbers he's put up. While this comparison might be apples-to-oranges when taking into account the quality of pitching he was facing, it is worth noting Williams did not hit a home run in 54 at-bats during the 2020 PG summer and fall seasons (6 2Bs, 1 3B); he had 18 extra-base hits in his first 72 at-bats this high school season.
Williams – ranked No. 54 overall in the national class of 2021 – attributes his power surge to what he was able to experience throughout 2020:
"Just a lot of gym time and a lot of swings," he said. "During Covid, it was tough, it was a bummer, but at the same time I used a lot of that time to go workout and just get bigger, faster stronger; that's a huge part of where I got the power from. And a lot of working on the swing, getting more into my legs, driving through the ball; I think that attributed to it, as well."
There is more to Williams' game than his elite ability to be able to swing the bat. This is a top prospect who knows how to pitch a little bit to, armed with a low-90s fastball, an 84 mph slider and 82 mph changeup. But the kid loves to hit, and as a result he went into his final prep season with the thought that he wouldn't pitch at all; then he reconsidered.
"It's your high school season – it's not a selfish thing; you're there for the team," Williams said. "If my coaches need me to pitch, I'm going to pitch. This season I've closed out three or four games but it's one of those things where I'm not going to start games…but I'm definitely pitching for the team."
Greg Williams is a former collegiate (Chico State) volleyball player and pro beach volleyball competitor who teaches special education and English 12 at Torrey Pines HS; he is also the head coach of the school's men's and women's beach volleyball teams.
Baseball is in his background as well, having played as a catcher, third baseman and center fielder during his prep years. Carson's mom, Colleen, is a Pitt graduate who now works as an accountant.
With so much down-time during the height of the pandemic, Greg said that he and Carson would work out together at least five times a week, either in the gym or on the field. Once the high school season starts, Greg steps back and allows his son's capable high school coaches to take over.
Carson Williams was a multi-sport athlete at TPHS up until this year but it wasn't your typical baseball/basketball/football sort of deal. He played for his dad's beach volleyball team during his first three years of high school and continues to enjoy the sport. It's also a pursuit that he feels has made him a better baseball player.
"It's competitive, it's lateral movement, quickness, jumping; you can take a lot of the athleticism from volleyball," he said. "Swinging, arm motion – it's everything."
With the 2020 prep season wiped out and with lockdown conditions still very much the rule of law in California last summer, top prospects like Carson Williams looked to find games anywhere they could.
Williams earned a roster spot with the Los Angeles-based TB SoCal Baseball Easton and made three separate trips to the Phoenix area where he began establishing himself as an elite prospect. He was an all-tournament selection at all three events: the PG 17u West World Series, PG WWBA 17u West National Championship and the prestigious PG Upperclass Fall National championship Protected by G-Form.
Just getting back on the perfectly manicured fields at the MLB Cactus League spring training complexes that hosted the tournaments made for joyous occasions.
"A baseball field is my happy place so it doesn't get much better than that when you've been cooped-up in your house," Williams said. "I can't sit still, personally, so I needed it for sure. It was awesome to get back out there."
And he wasn't done. Garciaparra put together a roster that played under the GBG Navy 2021 at the Jupiter event and it was a team on a mission. Qualifying for the playoffs as the No. 13 seed, the Navy 2021 completed a 7-0-1 trip through the talented field with a 9-1, six inning victory over Power Baseball 2021 in the championship game.
It was the first time a team from the West Coast had captured a WWBA World Championship crown since the Christian Yelich-led ABD Bulldogs '13 won it all in 2008.
Williams obviously played a big role in the run to the title. He hit .417 (10-for-24) with a triple and three doubles, drove in 10 runs and scored eight. Hitting third in the order, he solidified his MVP credentials by going 3-for-4 with two runs scored and two stolen bases in the championship game.
"The team was half GBG and half TB SoCal and I knew about half of the kids on the team," Williams said this week. "When I got there, everyone was awesome, everyone was a great athlete, everyone had a great personality; there was no hole in that team…It was unreal; the team that we had was incredible."
Garciaparra became emotional after the championship game victory: "It's hard for West Coast teams to come out here," he told PG. "You run with what you bring out here and you can't just pop guys in and out…I'm proud that 98 percent of our team is California boys…and that's what I think makes it super special."
Championship attitudes are developed early, and Greg Williams told PG that he went into Carson's room when his son was 10 years old and wrote on his chalkboard, "Work hard and all will be yours." Now, eight years later, those words are not only still on that chalkboard but remain words to live by for the young Williams.
"He gave up some things in high school and put his energy into baseball and being the best that he could be," Greg said. "So for him to have such a good summer and then to go out to the (WWBA) World Championship…me and my wife kind of get teary-eyed and we look at each other and we think that all of his hard work is paying off; this kid has been a grinder.
"We're that kind of family; we believe in hard work," he added. "So seeing Carson become a really shiny ball over the last eight months has been a lot of fun."
Carson Williams made Cal-Berkeley his school of choice based on a variety of factors, including a coaching staff led by head coach Mike Neu, a beautiful campus situated in the Northern California Bay Area and the school's academic reputation; he carries a 4.2 GPA at TPHS.
With all the bona fides Williams started to establish last summer and fall now carrying over into the spring, the interest shown by the MLB scouting community continues to intensify. In PG's first MLB Mock Draft published May 7, the committee had the hometown Padres selecting Williams with the 27th overall pick of the first round, calling it "our first surprise of this mock." But the MLB Draft just isn't something Williams is going to allow himself to dwell on, not in the present anyway.
"Right now is kind of a crazy time, so I'm trying to simplify as much as possible," he said. "I have no idea about the draft right now. I'm just trying to finish out my senior season and relish in the moment of my senior season because I know there's not going to be anything like this after that."
Williams then hesitated for a moment before adding: "I couldn't be any better. Playing high school baseball with all my buddies, trying to go get a (CIF Section) championship – I'm in a great place right now."
That "great place" continues to feature a lot of conversations with his parents regarding the months ahead. Greg Williams told PG that it's difficult to avoid all the draft talk because it's brought up continually on an unrepenting social media stream.
Is there an escape? It turns out there is, and it's this ongoing high school season. While Carson performs at an elite level on the field, Greg and Colleen sit amongst the other parents, sipping on ice water and talking baseball until each game's final out.
"I wouldn't be where I am without my parents," said Carson, noting that he has a sister, Layla, a freshman at TPHS who plays beach volleyball for her dad. "My mom showed me a work ethic and my dad just put it into perspective. He always had me on the field when I was young: throwing, hitting running; he gets me to workout. He does everything for me."
With so much in front of him, Carson Williams still doesn't mind looking back on that day last October when a PG WWBA World Championship was won and he was named the event's MVP. A stage like that brings out the best in any athlete who lives to compete at the highest level and prove that he belongs.
"We're in such a good place," Greg Williams said. "I wake up in the morning and I think here's a kid who's going to graduate from high school and he's doing wonderful things in baseball. He's got a ride to Cal-Berkeley and now Major League Baseball has a pretty decent interest in him.
"We're in a very good place in the Williams house…It's been a wonderful ride so far and we're not done yet."