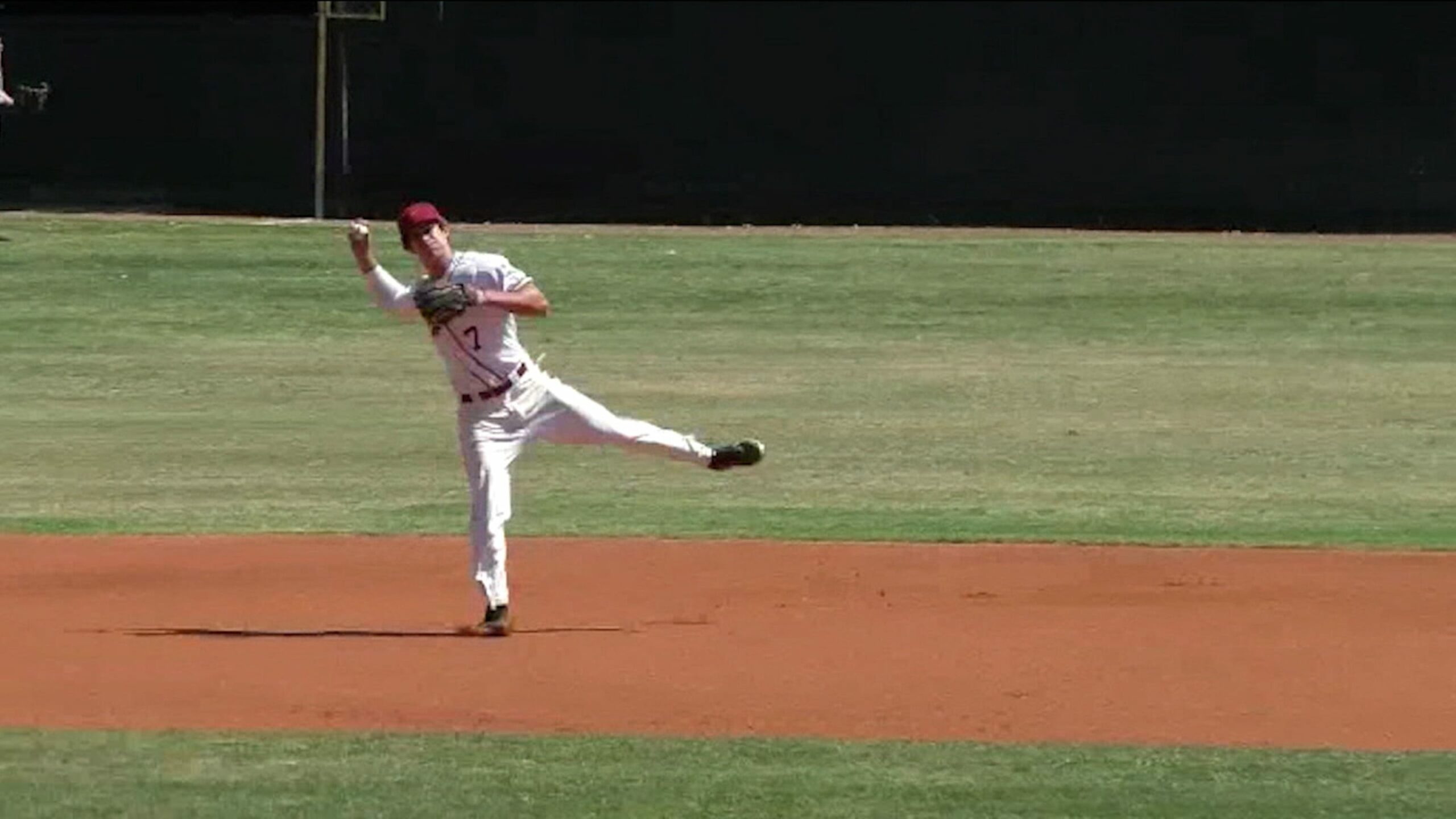 Rays' top pick Williams signs, 'ready to go'
July 22nd, 2021
The following was written by MLB on July 20th, 2021.
ST. PETERSBURG — The most exciting part of Carson Williams' day at Tropicana Field was not necessarily putting pen to paper and officially signing his contract with the Rays. It certainly wasn't the physical exam, which the first-round Draft pick summarized as "a long day of needles and MRIs." And it probably wasn't even the ballpark tour before Tampa Bay's Tuesday night game against Baltimore.
No, the best part of the day for Williams was knowing what would come next. On Wednesday, he will drive south to begin his professional baseball career at the Rays' complex in Port Charlotte, Fla.
Williams received a $2,347,500 signing bonus from the Rays, MLB.com's Jim Callis reported, less than the 28th overall pick's assigned slot value of $2,493,900. Tampa Bay has now signed both of its Day 1 Draft picks on consecutive days — No. 34 overall pick Cooper Kinney on Monday and Williams on Tuesday – and the club remains optimistic that more deals will be finalized in the coming days. This year's Draft signing deadline is Aug. 1.
Like Kinney, Williams will begin his tenure with the Rays taking part in instructional league-style workouts at Charlotte Sports Park before eventually beginning his climb up the Minor League ladder — a "long, long journey in baseball," as Williams put it.
The 18-year-old shortstop is more than ready, of course. He hasn't played a game in more than a month, as his high school team was eliminated from the playoffs on June 10. All the pre-Draft workouts, weightlifting and individual work he has done in the meantime didn't quite scratch that itch. Williams is eager to get back on the field for the real thing.
"I'm ready to go, ready to play some baseball," Williams said. "That's what I'm here for, so it should be fun."
First, though, he was able to enjoy his signing day with his father, Greg, and mother, Colleen. Williams went to plenty of Padres games growing up near San Diego, so he's no stranger to big league ballparks, but Tuesday was his first time inside Tropicana Field. As excited as he is to get started with the Rays, he hasn't quite let his mind wander to the thought of when he might return years down the road.
"I mean, I'm ready to go when they're ready," he said, smiling. "Whenever they feel it's right to bring me to the next level, I'm working with them and I'm putting in as much effort as possible."
Williams spoke highly of his early interactions with the Rays and raved about the way Tampa Bay runs the top-ranked Minor League system he's now joining.
"Unbelievable. A day kids dream of every single day," Williams said. "Growing up playing every sport possible and coming out with signing a professional contract for baseball, it's incredible. Just couldn't be more happy."
The Rays were also quite pleased to land Williams with their first Draft pick this year. Amateur scouting director Rob Metzler previously referred to Williams as a "true shortstop prospect" with good instincts, great arm strength and a steady glove hand. The Rays are also banking on his bat, which improved every time they saw him as an amateur prospect.
Tampa Bay's scouts always viewed Williams as a good hitter, but Metzler said his power improved significantly over the course of the last year. More strength came as he grew physically, and he channeled that into a low-maintenance right-handed swing with power to all fields.
"From last summer, last fall through this spring, he has consistently gotten better," Metzler said on Day 1 of the Draft. "He's a player who's put a ton of work into his ability and has a ton of ability and has made incredible strides from last summer until now."
The Rays got an up-close look at Williams during a pre-Draft workout at his high school, which was attended by area scout Jaime Jones, regional supervisor Jake Wilson and senior advisor R.J. Harrison. They clearly liked what they saw, but their interest did not ease Williams' anxiety on Draft night.
Asked what the last nine days have been like, Williams' first answer was, "Stressful." The next few figure to be much more exciting and a little easier on his nerves.
"Definitely stressful. Waiting to hear the name called was probably the most stressful part," he said, laughing. "But now that I'm here, I'm relaxed, just having fun and then ready to go play baseball."