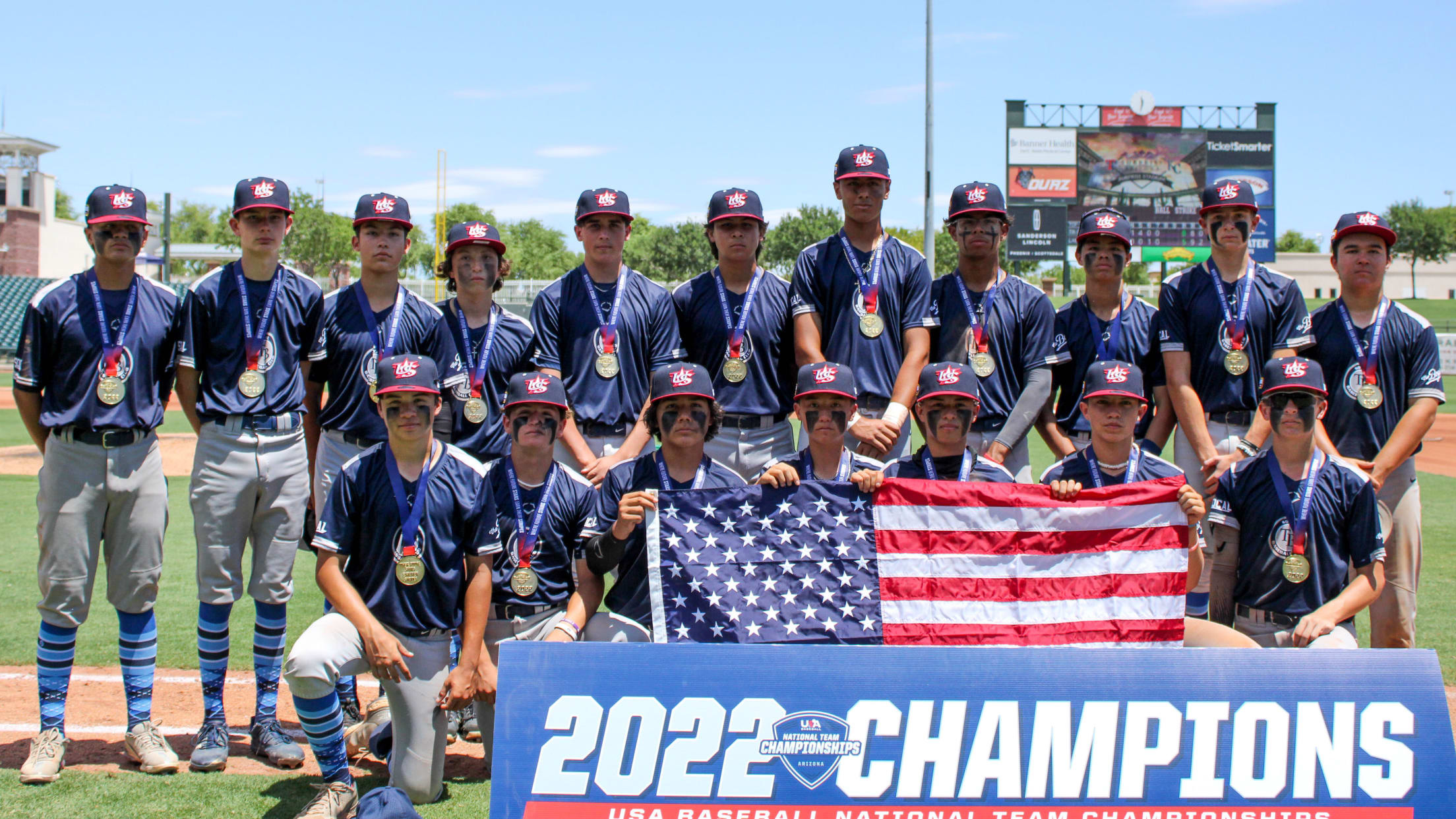 TB SoCal Baseball Wins 14U Championships
November 14th, 2022
The following was written by USA Baseball on July 4, 2022.
| | 1 | 2 | 3 | 4 | 5 | 6 | 7 | R | H | E |
| --- | --- | --- | --- | --- | --- | --- | --- | --- | --- | --- |
| TB SoCal Evo | 3 | 0 | 0 | 1 | 4 | 0 | 0 | 8 | 7 | 0 |
| Lamorinda Arsenal | 4 | 0 | 0 | 0 | 0 | 1 | 0 | 5 | 9 | 3 |
PHOENIX — TB SoCal Evo claimed its first 14U gold medal since 2017 with a 7-4 victory over Lamorinda Arsenal Monday morning at the 2022 National Team Championships Arizona held inside the beautiful Surprise Stadium.
A four-run fifth inning propelled TB SoCal Evo into the lead, and they never looked back on their way to gold. Isaac Aguirre provided five shutout innings of relief with four strikeouts, anchoring a pitching staff that struggled out of the gate.
TB SoCal Evo came out firing on offense, as back-to-back singles from Wyatt Clewett and Nicolas Decorte put the squad in front 2-0. An RBI groundout extended their lead to 3-0 in the top of the first frame.
Lamorinda responded with a four spot in the bottom half, as they tallied four hits including an RBI squeeze bunt from Graham Schlict to cut the deficit to one. Tanner Tarpley delivered a sacrifice fly to plate the go-ahead run in the first, as Lamorinda Arsenal snagged a 4-3 lead.
The game remained scoreless as Aguirre was shutdown in relief, keeping Lamorinda Arsenal at bay. He struck out four total in the contest, including striking out the side in the second inning on an immaculate inning. TB SoCal went on to score five unanswered runs over the fourth and fifth frames with the big blow being a two-run triple from Moises Razo.
Lamorinda Arsenal notched a run in the bottom of the sixth but had nothing doing in the seventh following a two-out base hit. The win marked TB SoCal's second gold medal in the age group, with the last coming in 2017.
TB SoCal Evo concluded the 2022 14U National Team Championships with an 8-1 record and an impressive 77-28 run differential. Earlier in the tournament, their 17U team won gold as well marking the organization's second championship of the 2022 tournament.
Lamorinda Arsenal suffered its first loss of the tournament to finish with an 8-1 mark. The silver medal was Lamorinda's first top 3 finish as a program at the National Team Championships Arizona.
NorCal U 2026 (7-2) bested MVP Hustle Black (7-2), 3-2, to grab its second ever top 3 finish at 14U and earn the bronze medal.
Game Highlights:
Back-to-back RBI singles by Wyatt Clewett and Nicolas Decorte gave TB SoCal Evo a 2-0 lead, and an RBI groundout later in the inning pushed the advantage to three.
Isaiah Mays singled home Hudson Flora after he began the first with a leadoff single. Graham Schlict proceeded to plate another on a squeeze bunt to cut the lead to one, 3-2.
Two sacrifice flies from Landon Cook and Tanner Tarpley on consecutive at bats put Lamorinda Arsenal in front 4-3 after a wild first inning.
Isaac Aguirre threw an immaculate inning in the second frame, striking out the side on nine pitches.
A beautiful throw from TB SoCal's Jhett Ohira in center field cut down a run in the fourth inning to keep the contest a one-run game.
Mosies Razo tripled home a run and was subsequently brought home on a sacrifice fly by Dane Keener to make it a 7-4 ballgame with TB SoCal in front. Clewett walked in a run with the bases loaded later in the frame to extend the lead to four.
After Lamorinda Arsenal got a run back in the sixth, Bobby Brooks struck out the final batter to secure the team's second gold medal of the tournament.
Notable Information
· "I'm so proud of our guys who came out here and fought until the very last out each and every game. It feels good to bring home some more hardware after winning it earlier in the month and I just can't say enough about our guys" — TB SoCal Evo head coach Benny Bonilla
On Deck
TB SoCal Baseball concluded the 17U National Team Championships with an 8-1 record and a .380 batting average as a team along with 29 extra-base hits.
Lamorinda Arsenal concluded the tournament with an 8-1 mark as well and earned the program's first-ever medal at the National Team Championships Arizona. The pitching staff only allowed 25 earned runs throughout the tournament and struck out 46 in nine games.
Social
Stay tuned to @USABChamps_AZ on Twitter for the most up-to-date news about the National Team Championships Arizona.